IAN PAGE AND THE MOZARTISTS ANNOUNCE RECORDING OF JOMMELLI'S IL VOLOGESO AND CONCERTS AT WIGMORE HALL AND CADOGAN HALL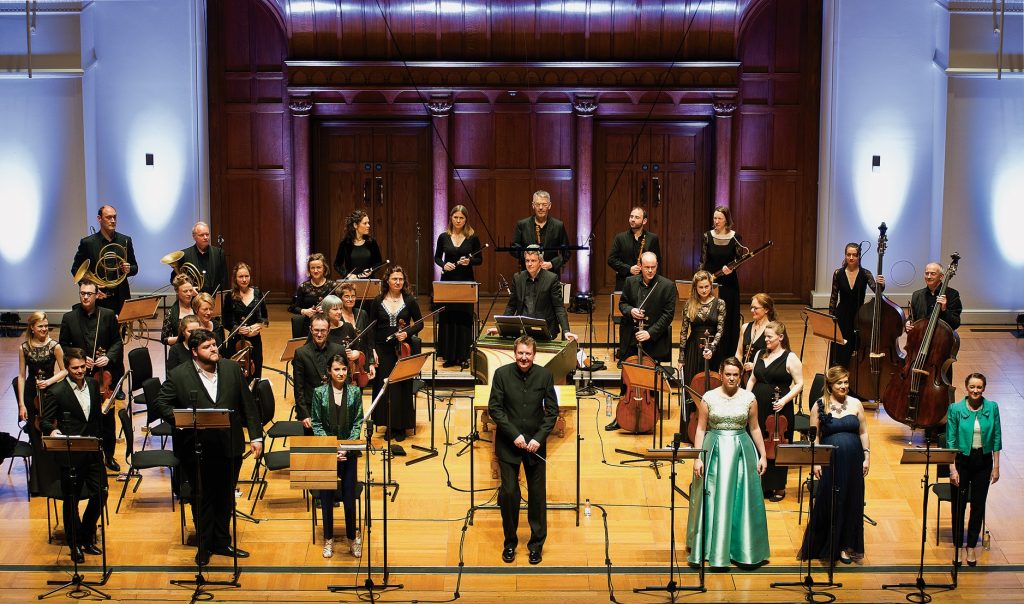 16 September 2021 | Wigmore Hall 'The Swinging Sixties' concert
17 September 2021 | Release of Il Vologeso album, Signum SIGCD692
22 November 2021 | Cadogan Hall '1771 – Mozart's Perspective' concert

Ian Page and The Mozartists announce their autumn plans including the release of their recording of Jommelli's Il Vologeso and live concerts at Wigmore Hall and Cadogan Hall. Soloists joining them include Jessica Cale, Alessandro Fisher and Emily Pogorelc.
Ian Page, Founder and Artistic Director of The Mozartists, said:
"It is a huge relief as well as pleasure to be resuming our activities and planning for the future again, after the dreadful hiatus that the world has endured over the past sixteen months. We're delighted to be returning to Wigmore Hall and Cadogan Hall in the autumn, and also to be releasing on CD our one-off 2016 concert performance of Jommelli's Il Vologeso. All three of these projects reflect our firm commitment to unearthing beautiful but largely forgotten repertoire and to developing and championing outstanding young singers."
NEW ALBUM:

The Mozartists's new album Jommelli: Il Vologeso features a live recording from April 2016 where Ian Page and the ensemble performed the UK premiere of the work. It is due for release by Signum Records on 17 September 2021. The soloists on the album are Stuart Jackson (Lucio Vero), Rachel Kelly (Vologeso), Gemma Summerfield (Berenice), Angela Simkin (Lucilla), Jennifer France (Flavio) and Tom Verney (Aniceto). Although Jommelli is a lesser-known composer now, he was one of the most celebrated composers of his day having written 80 operas and a great number of sacred works.
Il Vologeso received its world premiere on 11 February 1766 at an extravagant opera house located in Ludwigsburg palace, Stuttgart, which was one of the largest theatres in Europe at the time. The opera sets an adaptation by Mattia Verazi of the libretto of the same name by Apostolo Zeno, based on the story of the Parthian King Vologases IV, and marks Jommelli out as a highly original and accomplished voice.
LIVE CONCERTS – WIGMORE HALL AND CADOGAN HALL:

The Mozartists will perform 'The Swinging Sixties', a programme of music composed in London in the 1760s, at Wigmore Hall on 16 September with Associate Artist Alessandro Fisher (tenor) and Jessica Cale (soprano). The programme includes works by a handful of English composers, including George Rush, William Bates, Samuel Arnold and Thomas Arne, as well as Carl Friedrich Abel and Johann Christian Bach.
Ian Page and the ensemble return to Cadogan Hall in November to continue their MOZART 250 project with a survey of Mozart's activities in 1771. The programme includes symphonies and arias by Mozart as well as highlights from operas by Paisiello and Hasse that he heard during his time in Italy. They are joined by the award-winning young American soprano Emily Pogorelc, here making her UK concert debut.
FUTURE PLANS:

The Mozartists continue their MOZART 250 series with a '1772 – a retrospective' programme at Cadogan Hall on 27 January 2022. The ensemble will also make their debut at La Seine Musicale in Paris with soprano Chiara Skerath in a programme of Mozart and Haydn. Further London dates and full programmes will be announced nearer the time.