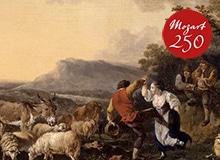 Bastien und Bastienne
The first concert of our 2018-19 season culminates with a performance of Mozart's Bastien und Bastienne, marking the release of our new recording of the work and the 250th anniversary of its composition. This performance, based on research developed since the relatively recent rediscovery of Mozart's autograph manuscript, will recreate the original 1768 version of this charming pastoral comedy for the first time since its première.
The opera will be preceded by a selection of arias from an anonymous collection of Viennese Comedy Arias from the 1750s, which demonstrate the musical language and style that Mozart deliberately replicated in Bastien und Bastienne, and the programme begins with one of Haydn's greatest Sturm und Drang symphonies, 'La Passione', also composed in 1768.
Pre-concert talk by Ian Page at 6pm
Sponsored by Rusada
Artists
Ellie Laugharne, Alessandro Fisher, Darren Jeffery, Ian Page, The Mozartists