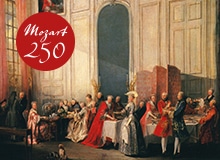 1766 – a retrospective
Following last season's triumphant launch of MOZART 250, we continue our unique traversal of the musical scene 250 years ago with a fascinating programme of works dating from 1766.
The repertoire is surprisingly varied and wide-ranging, including works composed in Holland by the ten-year-old Mozart during the return leg of his Grand Tour. It also features works composed in Ludwigsburg, Vienna, Eisenstadt, Venice, Bordeaux and London, ranging from intriguing operatic rarities by Jommelli and Guglielmi to dynamic symphonic repertoire by Vanhal and Franz Ignaz Beck.
Artists
Louise Alder, Benjamin Hulett